Weather, climate, climate tables, temperatures & best travel times worldwide
Estonia's climate in northern Europe corresponds to the northern latitude: here it is cool temperate and clearly in view of the eastern location continental. At the same time, the Baltic Sea, which surrounds the country on two sides, ensures maritime influences.
winter
In winter, the continental climate predominates, especially since the Baltic Sea cools down quickly and then hardly exerts its maritime influence. Are typical very long, very cold winters with lots of snow. There is even a fixed connection to many of the offshore islands in the Baltic Sea because the water in the Baltic Sea freezes over for a long time near the coast. The winter is so cold, among other things, because the days are very short and the sun therefore has no way of warming the country. Average daytime temperatures do not rise above freezing from December to March.
As the daylight increases, so do the temperatures. However, average temperatures in the double-digit range are not expected until June. in the late spring with its long days, both the ground and the Baltic Sea warm up, so pleasant temperature prevalence.
summer
in the summer it can especially in the southeast Estonia longer, dry periods and give higher temperatures. The influence of the continental climate is stronger here than in the vicinity of the Baltic Sea. However, like in the rest of the country, precipitation can also be expected all year round in the south-east. It rains least in the spring months, with an average of ten to twelve days of rain across the country between April and June.
The late spring and the summer are the best time to visit Estonia for a variety of reasons. The days in June around midsummer are particularly long, it is 19 hours of light and therefore the evenings are comparatively mild. In addition, the whole country then blooms, nature literally explodes after the long, cold winter.
For sightseeing and recreational vacations in Estonia are the Summer months suitable. Sometimes even a hot period surprises here, sometimes one of the numerous rain showers.
The late autumn and winter months, on the other hand, are only for die-hard people: Short days with four hours of little daylight, permafrost and snow then determine the weather.
Here you can find more information about the climate and the best time to travel to Estonia.
Weather in Tallinn
Weather in Estonia: The temperatures and rainfall for Tallinn, Estonia are taken from the yr.no website and provided by the Norwegian Meteorological Institute and Norwegian Broadcasting. The forecast is updated four times a day.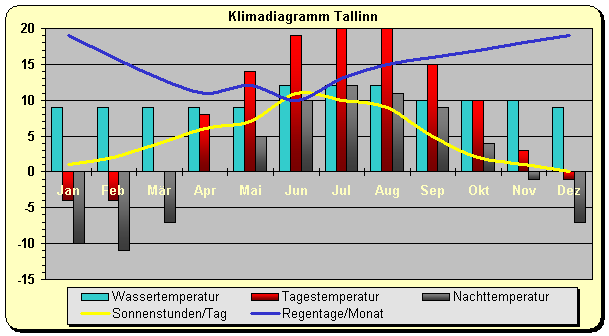 Climate in Estonia (north): Tallinn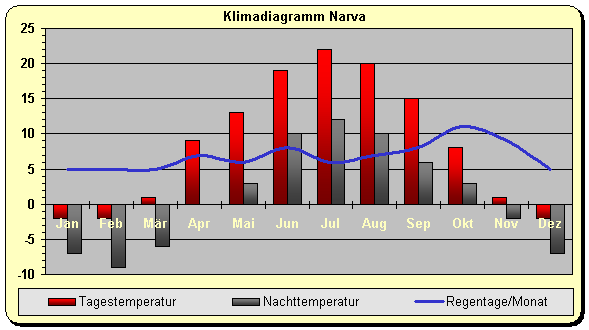 Climate Estonia (northeast): Narva
Estonia climate (southwest): Pjarnu
further climate tables for Estonia
For information on the climate, the best travel time and weather in other Central European countries, simply click on the country names on the map: