Wants to denuclearize North Korea
New start for talks with North Korea
The second state guest in the White House is also traveling from East Asia. After Japan's Prime Minister Yoshihide Suga on April 16, US President Joe Biden will meet his counterpart Moon Jae-in from South Korea on Friday (May 21). With the preference, Biden wants to repair the US's relations with the two allies in East Asia. His predecessor Donald Trump put Japan and South Korea under pressure because of their high exports to the US and demanded a higher financial contribution to the security alliances.
In contrast, Biden forges a strong alliance of democracies against China's claims to hegemony, especially in Asia, and treats Japan and South Korea as equal partners. "The Americans listen a lot more under Biden and coordinate more and more closely with South Korea," analyzes Thomas Yoshimura, representative of the Konrad Adenauer Foundation in the South Korean capital, Seoul.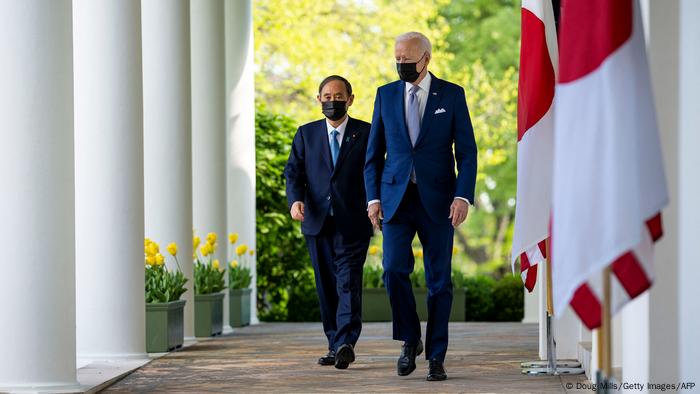 Japan's Prime Minister Suga (left) was the first foreign guest in the White House
At the top of the agenda for the Washington Summit is the future of North Korea's nuclear program. Long-range missiles that could carry nuclear warheads into the United States were developed under leader Kim Jong Un. After reviewing US diplomacy, the Biden administration has struck a middle ground between Barack Obama's "strategic patience" with Pyongyang and Donald Trump's pursuit of a "big deal" with a comprehensive disarmament treaty. But Biden has not yet indicated what his first steps will look like.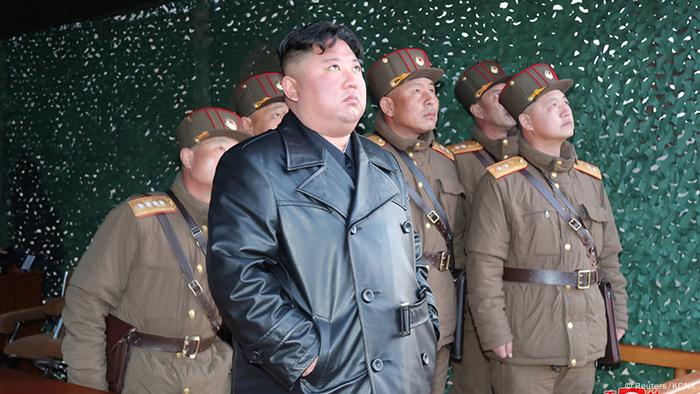 North Korea's leader Kim during the missile test in March 2020
"Practical" policy approach
President Moon brings his own ideas to Washington. "We will restore the dialogue between the Koreas and between the US and North Korea," he announced last week. The new US strategy is aimed at achieving the complete denuclearization of the Korean peninsula through "diplomacy with a flexible and practical approach in small steps," said Moon. The meeting with Biden should help to "coordinate more closely" the North Korea policy of the USA and South Korea. The US and South Korea understand denuclearization to mean that North Korea completely renounces nuclear weapons.
However, Moon is running out of time as his presidency ends in May 2022. The last year in office offered him a "last chance" to move from an "incomplete to an irreversible peace," declared the president. However, he does not want to be put under time pressure. But if the US resumes talks and North Korea plays along, Moon would arguably advocate phased denuclearization.
The sanctions would have to be relaxed gradually. "Moon will try to create sustainable impulses in the time he has left," says Yoshimura. "In this way he could renew his proposal to declare a formal end to the Korean War."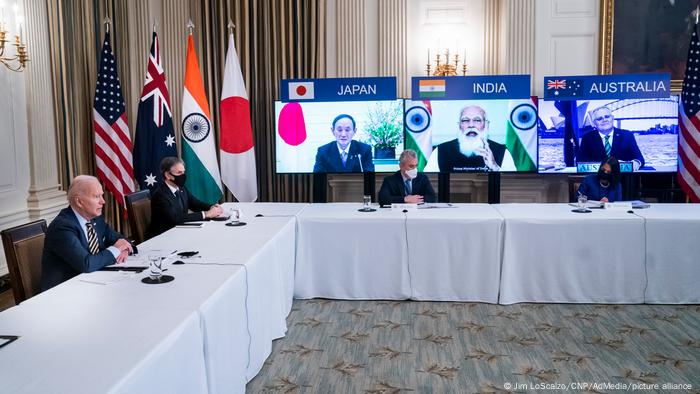 USA, India, Australia and Japan have joined forces to form the quad format
Commitment to the Quad Initiative
However, President Biden is likely to demand something in return for the quick restart of talks with North Korea. The US is pushing for South Korea to join the Quad Alliance. This "quadrilateral security dialogue" between the democratic countries USA, Japan, Australia and India strives for an "open and free" Indo-Pacific and regards itself as a diplomatic bulwark against China's expansion.
But this commitment is out of the question for South Korea. Rather, they want to strike a middle path between Beijing and Washington, in keeping with the historical self-image of Korea, which often perceives itself as a "shrimp between whales", as a small country between great powers.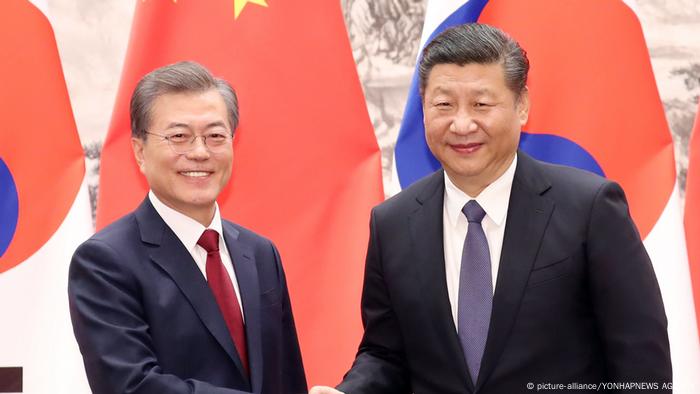 Moon with China's President Xi 2017
South Korea's dilemma is obvious: On the one hand, you need the security alliance with the United States to defend yourself against North Korea. In a new Korean War, his troops will be under the control of the United States. On the other hand, South Korea is economically more closely linked to China than any other country. This dependency has long since influenced foreign policy. In October 2017, for example, the Moon government announced its three security policy no's, which also take Chinese interests into account: no to the stationing of a second US missile defense system on South Korean soil, no to participation in a US-led regional missile defense system and no to the transformation of the trilateral security alliance the US and Japan into a real military alliance.
Because of the anti-Chinese thrust of the Quad, South Korea is unable to join the initiative directly. However, one cannot completely refuse the wish of its protector USA for a quad engagement. "The pressure on South Korea to participate in Quad plus is very high. A feasible compromise could be that this group is declared even more clearly as not anti-Chinese," says Korea expert Yoshimura. One solution could be that South Korea just joins the three Quad Working Groups on Vaccines, High Technologies and Climate Change.