Which is better Australia or Canada
Australia or Canada - Which Country is Better to Invest in Gold?
Today we want to pursue this delicate question, which is not that easy to answer, and see what results will emerge. First of all, both investment centers have a very similar currency development against the US dollar. As the following graphic shows, both currencies have developed in parallel over the past 5 years.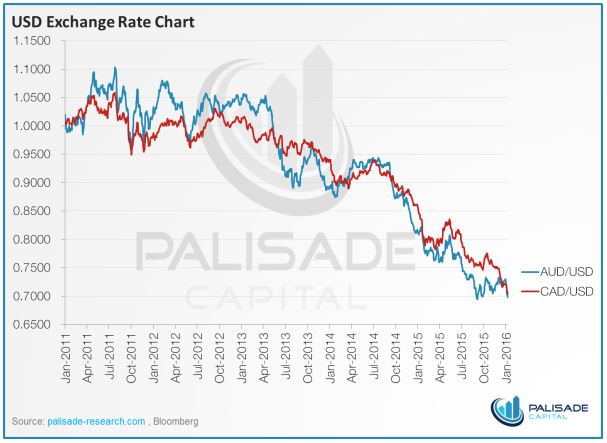 Sources: palisade-research.com, Bloomberg
The two soft currencies do not differ fundamentally in their development, so this argument is not a decision-making aid.
Both regions of choice also benefit from the cost factor in the production of raw materials from the extremely low energy costs, especially when they are active in regions where they are less dependent on electricity and more on diesel generators. The companies are of course very pleased, because the energy costs make up to 25% of the total costs. The total costs therefore decrease and the profit margins increase. So, apart from a few cases, there is also no meaningful decision criterion.
For the sake of simplicity, let's stick with gold producers and look for other possible distinctions.
Political stability
To choose one country over the other would be unfair, because you are on the safe side with your investments in both. Of course, this only applies if the company and project location are located in Australia or Canada. But not if companies are active in South America or Africa. Then the country risk of the project location would have to be assessed additionally.
geology
Here Australia is clearly ahead of the game, as it has more oxide ore bodies than Canada. In Canada, sulfidic ore bodies dominate, which experience has shown to be more expensive to process. In addition, larger-scale systems are possible in Australia compared to Canada, as the landscape is mostly flat and Canada is confronted with a more mountainous environment. Capex and Opex are therefore mostly higher for Canadian companies than for their Australian counterparties. Here would be a point for Australia.
climate
But Australia has another advantage, namely the climate. In Australia, mining and production can be carried out all year round without any problems and without being affected by severe winters. Something that puts Australian gold mining clearly ahead of Canada. This fact would also bring another point to Australia.
So far so good. It would of course be easy to say that Australia is clearly one step ahead, but as an investor you have to consider more than just location considerations, currency developments and geological details.
If you look at the price developments on the stock exchanges over the past 5 years, the divergence between ASX (blue) and TSX (red) is very noticeable.

Source: Finanz.net
And it's true, Australian gold companies have on average outperformed their Canadian friends. Now, of course, it would be easy to say I invest in Canadian companies, because they offer me much more potential for growth with better gold prices in the future. Also has its certain correctness, but is still not the last word in wisdom.
Without dealing with the company itself and its balance sheets, it will hardly be possible to make the right choice. Why? The main question that an investor asks, besides the potential of the company, is whether the chosen company is rated high or low. The current company value is an essential factor, because who would like to join an overvalued producer?
So we want to use an evaluation method that allows us to easily make comparisons - the determination of the enterprise value. Before we look at this method using an example, let's clarify the term and the underlying methodology for a better understanding.
Enterprise Value
Enterprise value is a measure of the value of a company regardless of its financing. It is calculated from the sum of market capitalization plus debt minus cash on hand and minus other assets that could be converted into cash immediately. Companies can be compared with one another using the Enterprise Value. The parameter is important for takeovers in order to estimate the necessary debt capital. The cash on hand is being withdrawn because the buyer of this company could have it immediately. The debts are added because he has to take them over immediately.
Sounds complicated, but it is not. The market capitalization is easily determined (number of shares times market value), debts and cash, as well as other assets can be found clearly listed in the financial reports of the companies. Any pocket calculator can do the rest of adding or subtracting these positions.
But on the basis of this result, companies can be compared more easily with one another and it is clear which value is more expensive and which is valued more cheaply.
Let's go to an example and compare the Australian one Evolution Mining (ASX: EVN) with the Canadian Endeavor Mining (TSX: EDV) and look at the evaluation results. Even if Endeavor is mainly active in West Africa, it can still be used as a mathematical comparison.
Evolution Mining recently acquired the Cowel and Mugari mines from Barrick Gold and will increase its production from the current 440,000 ounces to around 800,000 ounces annually. The pure cash costs of production will be able to be reduced to below USD 500 across the company. Sounds fantastic doesn't it?
Endeavor Mining is planning around 544,000 ounces of gold for 2016 at cash costs of around USD 750. Not bad either, right?
Both look tempting at first glance, but let's look at the determined enterprise values ​​of the two candidates. Evolution Mining's market capitalization alone is 4.5 times that of Endeavor Mining. Endeavor's enterprise value, allocated to the ounce produced, is USD 950, - but Evolution Mining's high USD 2,080. What does that mean? In terms of company value (per economically mined ounce), Evolution Mining is more than twice as high as Endeavor Mining. Thus, Endeavor Mining would be the absolutely cheaper company to get started with. Cheaper usually also means more potential for improvement.
Of course you shouldn't generalize that, because the development, the problems, other special features of a company are not always reflected in the course. And you shouldn't always judge a company based on purely mathematical principles. But mathematics, in this case enterprise value, can be of great help in making a decision.
And why did I want to go into this topic in particular? Many media outlets carry unilateral reports, either on Canada or Australia. And if you look at it roughly, you can easily fall into the temptation to put Australia over Canada or vice versa. Depending on which report you are currently reading. Of course, both regions have their advantages, but also their downsides. And if you want to get a better picture of yourself, there is no way around a comparative assessment. And it is precisely this understanding that I wanted to bring in with the comparison method.
Coming back to the question asked at the beginning: Investing better in Australia or Canada cannot be judged from the region alone. Only the correct background analysis of the company itself in connection with comparative mathematics shows the possibilities of participating in the best companies. And I wanted to give you this little building block for your more secure decision.