ridge
A ridge is a sharp ridge line in the mountains or a sharp ridge.
A ridge or mountain ridge is a sharp ridge line or a sharp ridge. A ridge is characterized by steeply sloping slopes or walls on both sides.
Burrs play a particularly important role in high-altitude mountaineering. Many summit destinations can only be reached on the simplest route over a technically and physically demanding ridge, e.g. B. the Matterhorn (4478 m) over the Hörnligrat or the Eiger (3970 m) over the Mittellegigrat. In comparison to the normal route, much more difficult and enjoyable routes for experienced alpinists such as the Stüdlgrat on the Großglockner (3798 m) or the Biancograt on the Piz Bernina (4049 m) are in great demand.
Examples of well-known and frequently climbed ridges in the Alps:
Hörnligrat, normal route to the Matterhorn (4478 m)
Stüdlgrat am Großglockner (3798 m)
Biancograt on the Piz Bernina (4049 m)
Mittellegigrat, normal route to the Eiger (3970 m)
Hintergrat am Ortler (3905 m)
Festigrat am Dom (4545 m)
Ridge Gallery: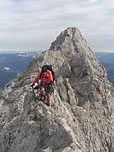 Watzmanngrat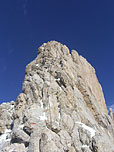 Summit ridge of the Zehnerspitze
Summit ridge on the Kesselkogel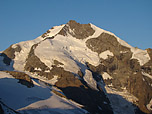 Piz Bernina, on the right the Biancograt
Aiplspitz summit ridge
Summit ridge on the Großvenediger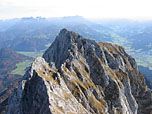 Connection ridge from the Ackerl- to the Maukspitze
Connection ridge from Monte Cevedale to the Zufallspitze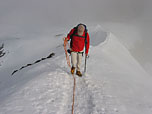 Summit ridge on Similaun