What do books mean to you?
Questions and answers on fixed book prices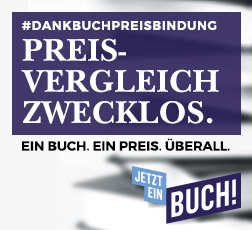 Fixed book prices ... what's the point?
Fixed book prices - what is it actually?
What is the price maintenance for?
What else is price-bound besides books?
What is not price-bound in the book trade?
What if there weren't any fixed prices?
What are special prices for books then?
Are there any discounts? And if so, for whom?
I buy so much at Lehmanns - how am I rewarded for my loyalty?
Fixed book prices What is it actually?
There are fixed prices for books in Germany. According to the Book Price Fixing Act (BuchPrG), publishers are obliged to define a fixed price for each book, and every commercial dealer is obliged to adhere to this price.
From Flensburg to Passau, all bookshops have the same prices. By the way, in a long tradition - since 1888. top
What is the price maintenance for?
Books are not shoes, saucepans, or auto parts. In their entirety, they form the mirror of a society and archive the spirit and knowledge of their epoch. Without the written and printed word there would be no progress; scientific knowledge would remain fleeting.
In this respect, trade with the is also different from that in the free market economy, in which supply and demand determine the price and create competition. In a unique way, namely through a legal regulation, the book trade was exempted from this - and that's a good thing!
Because the fixed book price is nothing more than a species protection for that. It has two main goals:
The receipt of a wide range of books
Bestsellers such as Harry Potter, a Duden dictionary or a standard textbook cannot come under price pressure on the market. With the profit that the publisher makes with a bestseller, it can also bring out books with less sales potential.
Thanks to its fixed sales price, the bestseller also finances the more specialized publications.
Obtaining a large number of outlets
The fact that small bookstores do not have to compete with the big ones on price ensures that bookstores can also exist in small towns or in the village. This ensures that everyone has access to the book - even in the provinces.
up
What else is price-bound besides books?
In addition to books, eBooks, sheet music, maps and media combinations (e.g. a language course with a book and CDs) are also subject to fixed book prices in Germany. up
What is not price-bound in the book trade?
Foreign-language (imported) books, audio books, DVDs, calendars, software, stationery and so-called non-books (gifts, toys) are generally not price-bound. up
What if there weren't any fixed prices?
The comparisons with countries without fixed book prices have shown that those of the book trade would undercut each other's prices for bestsellers.
The consequence? Small and medium-sized bookstores could not keep up with the price war, and publishers would have to add the lost profits of the bestsellers to the sales price of the more specialized books.
For you as a customer, the bestsellers would be cheaper, but a volume with modern poetry would not only be more difficult to get, but also disproportionately more expensive. up
What are special prices for books then?
Books that are no longer subject to price maintenance:

The publishers are allowed to completely fix the price for a certain book after a minimum period; the book is then no longer subject to fixed prices and the dealer can offer it at a price of his choice.
Defective copies are books that have an obvious defect due to damage. They are no longer subject to fixed prices - they can be recognized by a stamp on the (i.e. at the top or bottom of the book block, on the pages).
The dealer may sell you at a price of his choice.

Books that still have fixed prices:

The publishers are allowed to lower the prices of their books after a certain minimum period - for example if a work has not sold as expected. The lower price is then still firmly tied.
Some publishers have specialized in acquiring rights to older works and then reissuing them - often with lower features and quality than the original.
This section is called, but the book is new and the prices are still fixed.
Subscription price: This is an introductory price at which a work is offered at a lower price for a predetermined period of time from the time it is published. The publisher sets the price.
Mostly these are high-priced, extensive works.
There are also special prices for the entire purchase of a multi-volume work - in contrast to the purchase of individual volumes (e.g. from the Brockhaus Encyclopedia).
up
Are there any discounts? And if so, for whom?
Legally permissible - to a certain extent - are bequests, e.g. for libraries, libraries or schools, if books are purchased here as public property.
No discounts are permitted for you as a private customer. The bookstore is also not allowed to grant volume discounts on the purchase of many books. up
I buy so much from Lehmanns. How will I be rewarded for my loyalty?
As a bookstore, we are not allowed to give our customers discounts or give books as gifts, but we can provide so-called.
Our PremiumCard is particularly suitable for you: Collect points with every purchase that you can exchange for attractive prizes!
Further discounts are our services such as free delivery. up
Fixed book prices - what's the point?
diverse market


In the UK, only 5-10% of bookstores are small bookstores, while the online bookseller Amazon dominates the book market with a 45-50% market share. The entire German online book trade only accounts for 20% of sales in books, 30% is generated by the independent book trade, and 20% by the chain stores.
more independent bookstores
In Great Britain, with the abolition of fixed book prices, independent bookstores died (1995-2001: -12%) In Germany, on the other hand, the number of bookstores fell by only 3% in 1995-2002.
more book demand
If a bookstore closes in Germany, an average of 6,100 fewer books are sold each year; nationwide that makes a total of 3.5 million fewer books in 2014-2017 (56% of the total decline in sales).
cheap prices for more books
The average price for books in the UK increased by 80% after the abolition of fixed prices in 1996-2018. In the same period in countries with price control, such as France, books were only 24% more expensive, in Germany by 29%. Only the top bestsellers are cheaper in the UK than in Germany.
Discovery of unknown titles and authors
Between 2011 and 2018, 56.4% of fiction books that later landed on the bestseller lists, the sales in the local bookstore alone were decisive for the entry into the upper sales ranks, with a further 40% the presentation in the stationary bookstore was largely responsible .
more books sold beyond the bestsellers
In Germany, the demand for books is more broadly distributed across the entire range of books. Books in sales ranks 15,000 - 50,000 account for 20.5% of sales in Germany and only 15.3% in the UK.
The basis is a study by Prof. Dr. Georg Götz, Professor of Economics at the Justus Liebig University in Gießen from 2019
All information about the study from the German book trade association
Newsletters on all topics Read only what really interests you. Free and Up-to-Date:
We are currently informing you about 130 subject areas.