What are the best forums for the stock exchange
The best stock market forum? Financial forums in check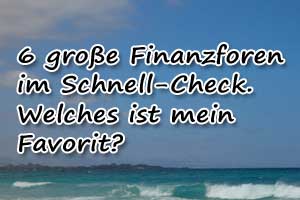 Financial forums are a great thing. Here you can find the latest news, opinions and knowledge on stocks, the stock market and other financial topics. There will also be like-minded private investors and exciting discussions. Of course, these portals are above all an excellent point of contact for (beginner) questions that can be asked there.
But what are the best German financial forums on the web? Which stock exchange forum do I personally find best? This is exactly what you are now experiencing. Because I present 6 large share and stock exchange forums and name my favorites (important: Registration and participation there of course does not cost a cent, which makes the whole thing even more interesting).
6 financial and stock exchange forums at a glance
Update in 2021: The following overview is now a few years old. I hope to find time to update the list below in the near future. Because some financial forums no longer exist or there are hardly any active visitors there (I think that one of the main reasons is that nowadays many investors prefer to use the well-known social media networks ... I think that's a shame).
Tip 1:Wertpapier-forum.de
A large and very well attended stock exchange forum. The focus is on stocks, other securities and other stock market topics. Beginners should take a look at the "General Stock Exchange Knowledge" section, where you can find some useful information for beginners.
Tip 2: wallstreet-online.de

This large finance portal also has a forum. The focus here is of course on stocks (from Germany and abroad), but other stock exchange and financial topics are also actively dealt with. For beginners, there is the "entry-level forum", where you can find helpful information and tips on entering the stock market or ask your own questions. This stock exchange forum is one of the most popular in Germany. Here is a direct link to the forum.
Tip 3:boersenforum.de
Here, of course, the name says it all. Sympathetic stock exchange community for beginners and professionals (a great thing for beginners is the "stock exchange beginners forum"). Relatively well attended (unfortunately little is posted in some areas).
Tip 4:Finanz-forum.de
Well-attended financial forum on general financial topics. In addition to the stock market, loans, insurance, mortgage lending, overnight money (what is overnight money?) And fixed deposit (what is fixed deposit?) Are also dealt with.
Tip 5:ariva.de
I find this exchange forum a bit confusing in terms of the category breakdown. But it is very busy, so it seems to be popular with a lot of investors. Unfortunately there is no dedicated area for beginner questions and discussions. In terms of feeling, more advanced investors hang around here. Link: Ariva Finance Forum.
Tip 6: aktienboard.com/forum (Update 2021: No longer active)

Great stock market and share forum with many members (over 45,000 according to the current status), where there is something for everyone interested in the stock market. I can particularly recommend the areas of "Beginners' Forum" and "Exchange Know-How" to those who are new to the stock market.
What is the best stock market forum in my opinion?
I find the stock exchange forum Wertpapier-forum.de preferably. I am also registered here myself. It is equally suitable for beginners, advanced and professionals. The members are nice, it is well attended and you can usually find well-founded information and answers.
But if you are interested, take a look at all 6 financial forums mentioned and get an overview. Maybe you have another financial forum favorite. Tastes are known to be different and that's a good thing :-).
---
Article Tips: