Which countries have simpler programs with dual citizenship?
The easy way to the EU
"As a Croatian, I never really felt, actually I'm Bosnian through and through. Applying for Croatian citizenship was a rational and not an emotional decision. In that respect, I can live with it," says Ema Pecenkovic from Bihać in Bosnia. close to the Bosnian-Croatian border.
Ema is the daughter of a Bosnian Croat and will therefore probably get Croatian citizenship. Then she can dream of a better future as the chances of finding work in Bosnia are slim. The graduate economist has been looking for a job for over three years - without success. "I don't know yet whether I'll look around Croatia or somewhere else, even in Austria or Germany. The important thing is that I'm covered first," said Ema.
Simple requirements for naturalization
With applications like the one from Ema, the population of the European Union could grow by several million people in the foreseeable future. Because some of the new EU member states such as Croatia, Bulgaria or Romania have simplified naturalization procedures for certain groups of citizens from third countries. For those who live outside these countries, but have cultural, linguistic or historical similarities with them.
"For such people, certain naturalization requirements are waived in these countries," explains Karin Traunmüller from the Department of International Law and International Relations at the Institute for European and International Law at the University of Vienna. "This means that you do not have to reside in the country of naturalization. For example, applicants can obtain Romanian citizenship without having to prove a place of residence in Romania. They also do not have to renounce their previous citizenship if they are naturalized. Dual citizenships are legitimate," said Traunmüller.
Romania and Bulgaria
There are estimates that around 1.5 million citizens of the Republic of Moldova could be naturalized by Romania. Several hundred thousand Ukrainians from the areas of Bukovina and southern Bessarabia are also interested in Romanian citizenship.
And they could be successful, believes Karin Traunmüller. Because many formulations in the naturalization laws are very vague and leave the authorities with a lot of leeway in their decisions. "Hungarians who live abroad can acquire citizenship if their ancestors were Hungarian citizens or if they are likely to come from Hungary and speak Hungarian. The phrase 'likely to be from Hungary' 'is very vague," said Traunmüller. "Or let's take Bulgaria. Anyone of 'Bulgarian origin' can obtain Bulgarian citizenship."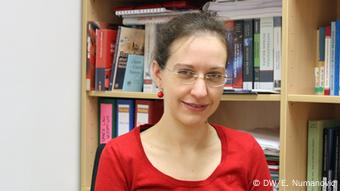 Karin Traunmüller from the University of Vienna is critical of the naturalization laws of some EU countries
Like Romania, Bulgaria has been a member of the EU since January 1, 2007 and has been of interest to around two million Macedonians since then - as a kind of stopover on the way to the EU. However, Macedonians can apply for citizenship in Greece as well. Because Greece also has relaxed regulations for citizens of Macedonia for obtaining citizenship. This is due to the numerous border shifts in the past.
Croatia
The number of Bosnian Croats who might be interested in Croatian citizenship after Croatia's accession to the EU on July 1, 2013 is estimated to be lower. Here unconfirmed estimates go from around 600,000. In Croatian legislation, the "Croatian nationality" is decisive for naturalization: Anyone who wants to become a Croatian citizen must respect the legal system and customs of the country, explains Traunmüller.
The Bosnian Croat Ema has to smile about it. "Well, if that means that I celebrated Christmas, then that applies to me. However, I also celebrated Muslim holidays because I basically like to go to celebrations." On the other hand, it would be a little more difficult for her to justify in writing why she considers herself a Croatian.
Low naturalization barriers also in Western Europe
The simplified naturalization regulations are not specific to Central and Eastern European countries, as European law expert Traunmüller explains. The situation is similar in Greece and Italy. In Spain, too, there are fewer hurdles for applicants from Latin America. How many people will seek EU citizenship in the future is difficult to estimate because the motives are mostly economic, said Traunmüller.
An agreement on this issue at European level will not be easy. Karin Traunmüller: "The citizenship regulation is a matter for each individual state. Even in international law, the citizenship regulation is the last bastion of sovereignty. There are no requirements for the individual states as to which requirements must be met in order to be granted citizenship."
How will the European Union react to the expected increase in new EU citizens? The Italian government has already protested against the lax laws of other states. Because Italy is the primary destination of Moldovan citizens who have acquired Romanian citizenship.