What is the best Android SIP app
July 23, 2015 (updated May 12, 2021) Created by Jennifer Schmitz Endgeräte
These free call apps for mVoIP are particularly popular
The advantages of the virtual telephone system include the independence of location and the possibility of using it via your smartphone. Many providers of online telephone systems provide their own VoIP apps. If this is not the case, you can fall back on freely available call apps for Android, iOS or Windows Phone. The call apps for IP telephony usually do not serve as a provider here, which is why you must already obtain a service in the VoIP area in order to use the apps. We present the most popular, free apps below:
CSIPSimple
CSIPSimple is an open source application that enables SIP telephony for Android smartphones. You need Android version 1.6 or higher for this call app for VoIP. In addition to simple configuration and the ability to record calls, CSIPSimple offers you TLS (Transport Layer Security) and SRTP (Secure Real-Time Transport Protocol) encryption.
WiCall
The WiCall call app is based on CSIPSimple and is available for iOS (from version 4.3), Android (from version 2) and Windows Phone (version 8 or 8.1) in many languages ​​(including German, English, Chinese). The size of this app is between 7 MB (Windows Phone) and 9.1 MB (Android) in the middle of the field. WiCall offers IP telephony over a WLAN or a 3G / 4G network. For this reason, the latter may incur costs for the data transfer. International calls cost $ 0.01 to $ 0.03 per minute. To do this, top up your prepaid credit. WiCall is one of the cheapest providers.
MobileVOIP
MobileVOIP is a call app for smartphones with iOS, Android and Windows Phone operating systems. You need at least iOS 5.1.1, Android 2.0 or Windows Phone 8. The app can also be used on iPads and iPod touch. Here, too, you can make calls via your 3G network, UMTS or WLAN. There are a number of national and international destinations that can be called free of charge via VoIP. If the destination is not listed, you can call there inexpensively with the credit you have loaded in the app. In addition, your contacts can be synchronized in the app, making it easier for you to use.
Linphone
The Linphone call app is available for Android, Windows Phone and iOS. You need Android 2.2 or higher, Windows Phone 8 or 8.1 or iOS 6.0 or later versions to use it. This application can only be configured in English, Arabic, French or Russian. Linphone is an open source voice over IP softphone that is compatible with the Session Initiation Protocol (SI). This call app also enables the integration of telephone contacts, provides a chat and offers multiple calls.
Sipdroid
Sipdroid is one of the most popular and, with a size of 1 MB, the smallest call app for Android. The app is integrated into the smartphone's operating system and enables VoIP calls via WLAN or 3G / 4G. With Sipdroid you need a provider who provides you with the telephony function (e.g. virtual telephone system). You can also add Skype accounts and use them to make calls.
Viber
The Viber app is not a classic call app. Although it enables calls via the Internet and also offers messaging functions, all participants must be registered with Viber. To do this, the app synchronizes your contacts and shows you which ones are registered with Viber. Viber is compatible with Android 2.3, iOS 7 and Windows Phone 8 or higher and can also be used on tablet PCs.
Zoiper
Zoiper is a standalone call app that does not offer the telephone service, but only offers the VoIP client. So you have to be registered with a telephony provider. Zoiper advertises with a user-friendly interface and good call quality, even on older devices. For this you need at least Android 2.1, iOS 5.1.1 or Windows Phone 8. Zoiper is known for the lowest battery consumption, the highest stability and the lowest latency compared to other Android softphones.
Skype
Skype is probably the best known application of internet-based telephony. You have to register with a Skype account and can call your contacts over the Internet free of charge or, with top-up credit, make calls to landlines or mobile phones.
WhatsApp call
In addition, "WhatsApp" has recently been offering an IP telephony function. As with Viber, you can only make calls with your WhatsApp contacts here. However, due to questionable data protection aspects, with which WhatsApp has often come under fire, it is advisable to compare other providers.
Slack
Slack is a popular messenger in the corporate environment. We at fonial are also currently using Slack for exchanges. Slack recently added the option of making online phone calls. If you use Slack as an app on your smartphone, you can start phone calls with colleagues from the direct chat here.
Conclusion
There are far more SIP clients for Android, iOS and Windows smartphones. It is best to compare for yourself which functions you need and which call app suits you best. However, you should note that when you are on the move in the mobile network, you also have to pay for the data consumption - unless you have booked a flat rate option. Even abroad, where the available data volume is usually no longer active, you should always keep this in the back of your mind and dial into an available WLAN with the Call app before making calls. Also check with your provider for virtual telephone systems to see whether they do not offer a suitable call app.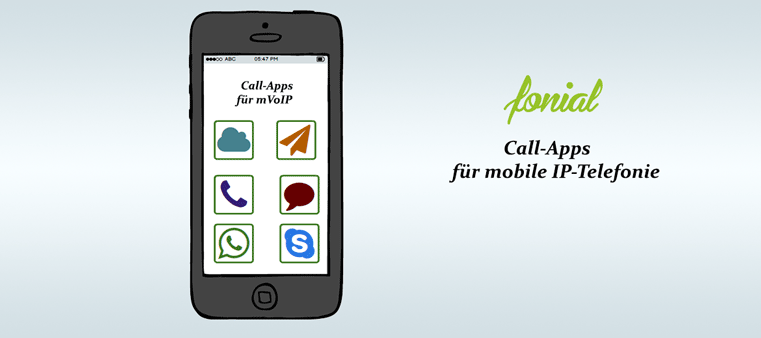 ---
8 visitors rate this article with average 4.5 of5 Stars.