Should Albania recognize the genocide of the Armenians
Biden recognizes the massacre of Armenians as genocide
Despite warnings from Turkey, US President Joe Biden has recognized the massacre of the Armenians in the Ottoman Empire during the First World War as genocide. "The American people honor all those Armenians who perished in the genocide that began 106 years ago today," said Biden in a message distributed by the White House on the commemoration day of the massacres. During the election campaign, Biden had promised that the massacre of the Armenians would be recognized as genocide.
Ankara had warned beforehand
Turkey reacted immediately: Turkey "does not have to let anyone teach it about our history," declared Foreign Minister Mevlüt Cavusoglu. A statement from his ministry said Biden's step opened a "deep wound" that was undermining Turkish-American friendship. It is a "vulgar distortion of history". President Reccep Tayyip Erdogan declared that the issue should not be "politicized by third parties" and "used as an instrument for interference in our country". Instead, the debate should be left to historians.
After Biden's statement, Turkey summoned the US ambassador to Ankara. The Turkish Foreign Ministry is expressing its protest against Biden's statements on Saturday, reports the Turkish news agency Anadolu.
The Armenian Prime Minister Nikol Pashinyan thanked Biden for his "important step towards justice" and his "support for the descendants of the victims of the Armenian genocide".
The US Congress had already recognized the massacre of the Armenians in the Ottoman Empire as genocide in 2019. The administration of then US President Donald Trump then emphasized that the legally non-binding resolution did not change the attitude of the US government. Biden's predecessor Trump had spoken of "one of the worst mass atrocities of the 20th century", but - like other US presidents before him - he had avoided the word genocide.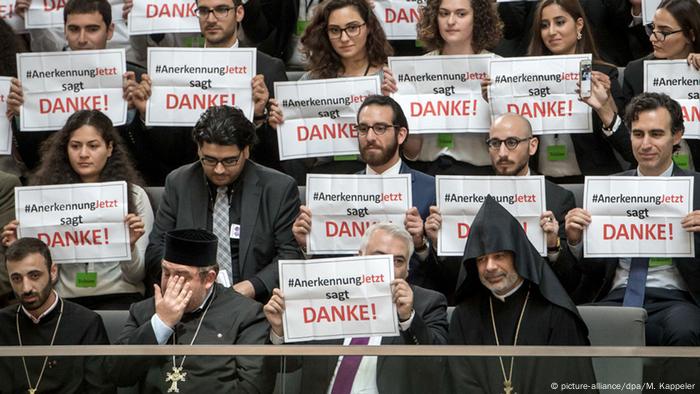 Armenian members of the "Recognition Now" initiative in 2016 after the Bundestag classed the massacre of the Armenians as genocide
Up to 1.5 million dead
April 24, 1915 marked the beginning of the massacre of the Armenians in the Ottoman Empire. It is estimated that between 1.2 and 1.5 million Armenians were killed by soldiers of the Ottoman Empire at that time. Turkey rejects the use of the term genocide and speaks of a civil war in the course of which hundreds of thousands lost their lives on both sides.
The German Bundestag classified the massacre of the Armenians in June 2016 as genocide. This sparked a serious diplomatic crisis with Turkey. French President Emmanuel Macron officially declared April 24 to be Remembrance Day in 2019.
as / uh (dpa, rtr, afp)