How can i make apple cider vinegar
The fasting blood sugar level did not change significantly, however, but the HbA1c values ​​fell - the so-called long-term blood sugar, which is of great importance for diabetics.
Apple cider vinegar for beautiful hair
Some people also swear by using the apple cider vinegar as a conditioner after shampooing to keep hair soft and shiny.
Apple cider vinegar in the household
Apple cider vinegar in diluted form is also suitable as a disinfectant for surfaces, for cleaning and for decalcifying. Apple cider vinegar mixed with two parts water can also be used to remove chemical residues on fruits and vegetables.
Recipe: make apple cider vinegar yourself
To make apple cider vinegar yourself, you will need:
a large bowl
a rubber band
a kitchen towel
large mason jars
Bottles for filling the vinegar
Tip: For a sweeter apple cider vinegar, you can use sweet apples.
ingredients
Apple leftovers (core, peel, etc. - preferably from organic apples)
water
The amount of about 4 large apples or the remains of about 8 apples make about 2 liters of vinegar.
preparation
Put all of the apple scraps in a large bowl and fill with cold tap water until the apple scraps are covered a good two centimeters with water.
Cover the bowl with a kitchen towel, secure it with a rubber band and leave it to ferment in a cool place for about a week. Important: Stir every day so that no mold forms, but white foam, which is a sign that fermentation has started. If that takes too long, you can add a handful of sugar when preparing the apple cider vinegar, then you often have a foam after two days. The sugar is no longer present in the finished vinegar.
As soon as a foam has formed (this should happen after a week at the latest), pour the mixture through a kitchen towel and add the remaining apple mixture to the compost.
Fill the still unripe vinegar into large mason jars (preserving jars) and cover them with a cloth - do not unscrew so that the vinegar can breathe!
Now let the vinegar stand in a warm place (around 25 ° C) for another five to six weeks (you no longer have to stir). During this time the so-called "mother of vinegar" is formed. It forms first on the surface, but then sinks.
After six weeks the vinegar has darkened. It clearly smells like apple cider vinegar. Do not be surprised about the gel-like mass floating around, this is the "mother" and is completely harmless.
Now fill the finished apple cider vinegar into bottles that you can close tightly. The vinegar stays sealed for several months. If you like cloudy apple cider vinegar, fill the mother with. But you can also sieve the mother off and use it for a new vinegar preparation. Store your vinegar in a cool place and shake it vigorously before use! The finished vinegar will ripen a little while it is stored in the refrigerator.
Now enjoy your natural, self-made apple cider vinegar in healthy salads and in the applications described above.
donation
Your donation helps us
If you enjoyed this article, we would appreciate a small contribution to our work! Donate now with Paypal.
display
Distance training to become a holistic nutritionist
Are you interested in what's in our food and want to know how nutrients and vital substances affect the body? Do you want a healthy life for yourself, your family and fellow human beings? Nutritionists are popular - but the holistic aspect that is needed for sustainable health is often forgotten when giving advice. At the Academy of Naturopathy, you will get to know the connections between lifestyle and diet as well as physical and psychological well-being.
That educates interested people like you in around 16 months to become a holistic nutritionist out.
Is this article worth reading?
Share this article
swell
Shishehbor F.et al.,"Apple cider vinegar attenuates lipid profile in normal and diabetic rats." Pak J Biol Sci. 2008 Dec 1; 11 (23): 2634-8. (Apple cider vinegar dampens lipid profile in normal and diabetic rats.)
White A. et al., "Vinegar Ingestion at Bedtime Moderates Waking Glucose Concentrations in Adults With Well-Controlled Type 2 Diabetes," Diabetes Care, August 21, 2007
Fushimi T. et al., "Dietary acetic acid reduces serum cholesterol and triacylglycerols in rats fed a cholesterol-rich diet." British Journal of Nutrition, March 08, 2007 (Acetic acid reduces cholesterol and triglycerides in rats on high cholesterol diets.)
Ostman E. et al., "Vinegar supplementation lowers glucose and insulin responses and increases satiety after a bread meal in healthy subjects." Eur J Clin Nutr. 2005 Sep; 59 (9): 983-8. (The addition of vinegar lowers glucose and insulin reactions and increases the feeling of satiety after a meal of bread in healthy subjects.)
Mohamed el-OA et al., "The effect of cider vinegar on some nutritional and physiological parameters in mice." J Egypt Public Health Assoc. 2001; 76 (1-2): 17-36. (The nutritional effects of apple cider vinegar in mice.)
Notice on health issues
This information is passed to the best of my knowledge and belief. They are intended exclusively for those interested and for further training and are in no way to be understood as diagnostic or therapeutic instructions. We do not assume any liability for damages of any kind, which arise directly or indirectly from the use of the information. If you suspect illness, please consult your doctor or alternative practitioner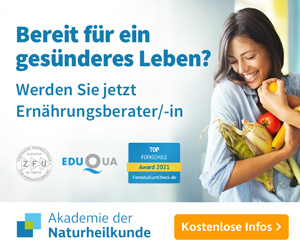 Subscribe to Newsletter
Exciting information about health and nutrition
1x per month
Login Successful. You will shortly receive a confirmation at the specified email address.
With your registration you allow the regular sending of the newsletter and accept the data protection regulations.
HEALTH CENTER © 2021 Neosmart Consulting AG. All rights reserved.